Advertisments
Find us on Facebook
Advertisments
Golden European Award Given to Cretan Beaches of Ierapetra Share it on Facebook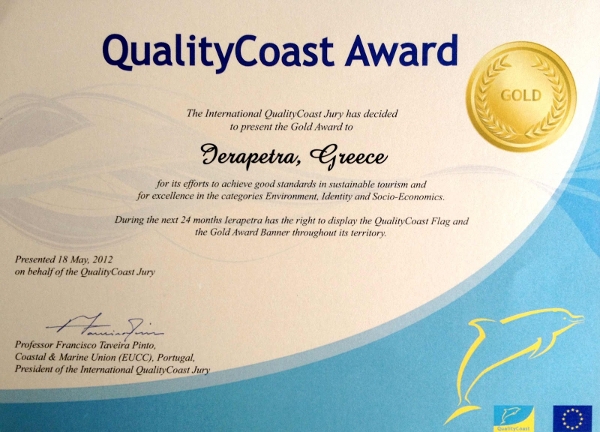 Ierapetra, the southernmost town in Europe, in the prefecture of Lasithi Crete, was awarded with the Golden Pan-European Prize for the high quality of its beaches by the QualityCoast programme. The criteria divided into four categories:

Nature
Environment
Identity
Socio-Economics

The award was granted by the European Union beaches and coastal areas (EUCC) during a special ceremony in Torres Verdas, Portugal. The EUCC General Director, A. Shalman, delivered the award to Ierapetra mayor S. Anastasakis and the Municipality of Ierapetra.
With the QualityCoast programme, the Coastal & Marine Union - EUCC aims to establish a world wide network of coastal communities that share similar values on sustainable development, nature and biodiversity, cultural heritage and identity, and social responsibility, at the same time maintaining high standards in the quality of their tourism.
The committee evaluated 1,000 international tourist destinations ranging from Finland to the Mediterranean, of which 100 regions were chosen for their beauty, attractiveness to visitors who exhibit interest in natural areas, cultural legacy, environment and sustainability. Ierapetra ranked second in the top ten list of Europe.

Related Link: http://www.qualitycoast.net