Advertisments
Find us on Facebook
Advertisments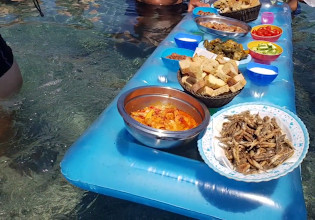 We all look for rejuvenation and relaxation during our holidays with visits to beaches, mountains and canyons. Food we use, beyond that it is necessary for maintaining the body and its activeness, so it must be noutritious, can also have, a significant contribution to the sense of happiness and tranquility. According to science pleasure of all kinds, including that derived from food, leads to the release of dopamine in the brain promoting the feeling of happiness and calmness. So the food must be not only nutritious, but also tasty.
Over the centures, Crete (inhabited since the 6th century BC) developed the famous Minoan civilization (one of the first civilizations in Europe), has been inhabited by Romans, Arabs (Saracens), Venetians, and Turks it took and gave cultural elements that shaped its current identity as well as the cuisine of today's Cretans.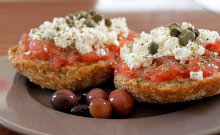 The preparation of food, from the ingredients, to the way of cooking and the recipes, passed down from generation to generation ,progressed and evolved, until today in what we call Cretan cuisine, whose basic raw materials offers the fertile Cretan land such as horticulture products, cheese, olives, fine quality honey and olive oil, herbs, meat of birds, rabbits, pigs,goats and sheeps.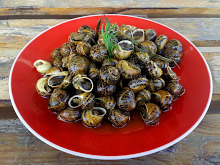 Here are some traditional appetizers (mezes in greek language ), main dishes and drinks that every visitor to Crete should taste, (in random order).


⇢ Dakos (salad with paximadi) !!!
⇢ Tzatziki ( yogurt with garlic, cucumber, vinegar, olive oil) !!!!
⇢ Chochlioi Mpoumpouristoi (snails in the pan) !!!!
⇢ Ntolmadakia, rice wrapped in vine leaf !!!
⇢ Gemista, rice wrapped in tomato, potato, eggplant, pepper, pumpkin !!!
⇢ Apaki, smoked pork (or chicken) meat !!!!
⇢ Kolokythoanthoi, rice wrapped in pumpkin flower !!!
⇢ Kolokythopita , pumpkin pie !!
⇢ Mizithropita with honey, mizithra sandwich !!!!
⇢ Sykoti Savore, liver cooked in vinegar !!!
⇢ Staka, buttercream roux !!
⇢ Graviera cheese !!!
⇢ Xynomizithra cheese !!!
⇢ Xygalo cheese !!!! (Other cheeses include Amarino, Seliano, Tirozouli, Tiromalama, Pichtogalo)
⇢ Antikristo (or Ofto), lamb meat !!!!
⇢ Hirino me selino, pork meat with celery !!!!
⇢ Gamopilafo, rice cooked in goat and rooster broth !!!
⇢ Sfougato (omelette with potatoes/pumpkin) !!!
⇢ Sofegada, vegetables !!!
⇢ Types of pasta, such as Skioufichta, Magiri, Chilofta, Avgochilos
⇢ Xerotigana, dessert !!
⇢ Amygdalopita (dessert) !!!
⇢ Patouda (dessert) !!!!
⇢ Portokalopita (dessert) !!!
Drinks
⇢ Tsikoudia or raki !!!
⇢ Rakomelo ( raki with honey) !!!
⇢ Cretan wine !!!