Advertisments
Find us on Facebook
Advertisments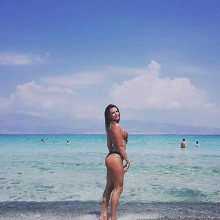 This is a very good option of a natural sunscreen that you can make on your own and use, for face and body. It combines virtually all the qualities necessary for complete and balanced skin protection.
Coconut oil and avocados are rich in vitamin A, which protects against infrared rays. Olive oil prevents dehydration and darkens the epidermis. Wheat germ oil contains vitamin E and prevents infrared radiation. Sesame oil and sunflower oil prevent ultraviolet rays. Clover extract reduces the sensitivity of the skin to the effects of uvb and in addition is acting as a protective agent. Finally, calendula oil is healing and prevents burns.
The recipe for the above face and body oil with essential ingredients avocado, coconut and olive oil will need the following quantities of ingredients:
2 tablespoons of avocado oil
2 tablespoons of coconut oil
1 tablespoon of olive oil
2 tablespoons of wheat germ oil,
2 tablespoons of sunflower oil
2 tablespoons of sesame oil
1 tablespoon of calendula oil
2 tablespoons of extract or clover oil.
Put all the oils in a small blender and mix them for a while. Then store it in a glass bottle. If we heat very lightly and mix for a while we will achieve better homogenization of the mixture. Half an hour before sun exposure, we apply a generous amount of this oil and make a gentle massage. We repeat again after a little while and, we often put and sit in the sun for short intervals. Immediately after exposure to the sun, we need to reapply a small amount as a back-up protection.