Advertisments
Find us on Facebook
Advertisments
North or South beach, East or West?
Share it on Facebook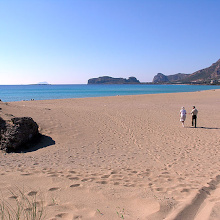 Crete has wonderful beaches from Falasarna to Zakros, all along its coastline. Regardless of whether your transportations are easy or difficult, it is good to be successful in your choice of beach and return to your base happy with your choice.
After all, with such fuel costs, these are not times for failures. North or South beach then, east or west?
An empirical rule to achieve swimming in clear waters limiting the chance of encountering a jellyfish, is the following:
Choose a day with winds of 2-3 beaufort and go to a beach similar to the wind direction so that the sea currents will carry any impurities away from the coast, making also more difficult to see a jellyfish. For example, if the wind blows from the north, namely, a wind blowing from north to south, choose a south beach.