Advertisments
Find us on Facebook
Advertisments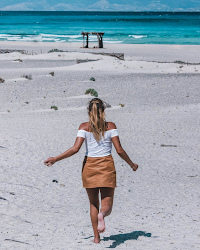 Many people see the beach as entertainment, others as recreation, others as sport and others as an opportunity to rejuvenate body and mind by using the sun, the beneficial ingredients of seawater, and oxygen.
What is our point of view? " The beach is always the best choice! "
In Crete there are beaches with fine sand, thick sand, pebbles , and others that combine the above characteristics. In many of them, mainly in the northern Crete, many of you may have noticed the existence of a porous light stone.
It's known as "kisiris" (in Greek). It is a pumice, volcanic origin, and can be used to remove from the feet, hands and other parts of the body calluses and hard parts,that many of us have been suffering from, for years, or we're just used to living with them.
On your next beach outing, look for it, find it, take a few minutes and rub it on your calluses after you've soaked them in the seawater to get rid of them.