Advertisments
Find us on Facebook
Advertisments
On the roads of Crete
Share it on Facebook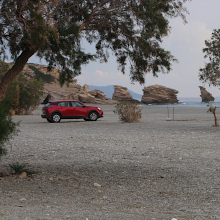 Crete in holiday periods acquires multiple population, with the traffic on the roads to grow, as everyone is looking for moments of relaxation on beaches, on mountains and canyons. Many will rent a car, others will bring your own, others will use a professional guide that knows well the road network of Crete and also can suggest remarkable places, and others will choose public transport for excursions to cretan nature. The road network has new constructions with wide flat roads, and open turns.
You will also find on your way, old road network, mainly in south Crete, which although is well preserved, it has traps, like very closed downhill turns, pits and asphalt abnormality.
Most know that if we want to reduce speed on a turn we do it before entering the turn, and we avoid to press the brake in the turn. Even if you are experienced driver with hundreds of thousands of miles in the conner, it is probably on a downhill closed turn or a soil abnormality on a turn, to feel that the car is going to lose control on the back side with danger even to completely lose control of the car. In such a case, act fast, turn too little and smoothly the steering wheel to the side you feel that is gonna take you out of the road to get the car back to your control.
Remember that conservative logic in driving is always the safest for you. Always check lights, tyres pressure and liquid levels before taking a trip. Our suggestion is drive calm, don't do unnecessary overtakes, leave sufficient distance to the vehicle ahead, lower speed before taking a turn, double check on crossroads.