Advertisments
Find us on Facebook
Advertisments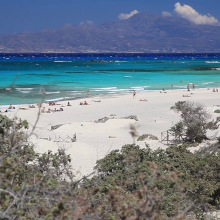 Many people ask for sea view during their vacations when booking a room, in a hotel located on an island or near a beach. Many do it for aesthetic reasons, some because they are inspired by it, others because they feel relaxed with this view.
Innumerable songs and poems have been written about the sea, and loved from the people, as they has realized it's benefits using their senses, before it scientifically proven.
Research from the University of Michigan, published in the medical journal Health and Place, says that those who see the sea from their home or work have a reduced level of stress compared to those who see trees, plants or have no contact with the natural landscape.
Signifant finding, as today, in the modern competitive environment, stress is burdening our daily lives, significantly affecting our quality of life, and has been linked with autoimmune diseases.