Advertisments
Find us on Facebook
Advertisments
Winter Swimming
Share it on Facebook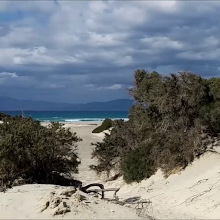 A dear friend, winter swimmer, confesses: It was mid December a few years ago when I did my first swim. I was standing on the beach and looking at the sea for a long time before I dived. Inwardly I was afraid that I might not come out alive, since there was no one else on the beach, to help if something went wrong. I had read so much about the benefits of winter swimming that I was determined. A successful heart test I did a few weeks ago, was my weapon in this decision. I was 32 years old.
I took a few steps impetus and dived ... An unsurpassed experience! I felt like I had conquered the top of a big Mountain like Psiloritis or Olympus or Everest.
After some minutes, of intense and fast swimming, (as i was trying to front the cold water), going out on the shore I felt like a winner of Olympics, a trophy winner. It was a precious gift that the course of my life gave me.
The body, to deal with the cold, secretes a cocktail of hormones that cause the swimmer euphoric shock. The combination of endorphins and adrenaline soothes all pain, not only for as long as swimming lasts, but also much later. "You go into the water and forget everything," say winter swimming enthusiasts.
The "scores" on health
A study published in the International Journal of Circumpolar Health found that winter swimmers show:
-Increased body resistance to the common cold.
-Better musculoskeletal flexibility.
-Better stress relief and mental well-being.
-Greater feeling of freshness of the skin.
-Greater vitality and performance at work.
What we need to know
-To engage in winter swimming, it is important to have a medical examination, especially if you are elderly, as well as if you suffer from diabetes, cardiovascular disease, lung disease, angiopathy, some forms of neuropathy and allergies.
-The first step to becoming a winter swimmer is not to interrupt the baths after the holidays, so that the body gets used to the changes in temperature.
-When diving, we should be careful not to exhaust our body. As soon as we feel discomfort or our stamina begins to betray us, we must immediately get out of the water and make sure to wear something warm or, even better, to be in a heated environment.
7 tips for safe winter swimming
1. Avoid winter swimming when it is raining and when there seems to be a case of lightning, as well as when it blows south, because the sea in such conditions is not at all predictable.
2. Before entering, do a small warm-up with stretching, to activate and bleed the muscles. We can also do a running on the same spot, or a short jog.
3. Do not dive abruptly into the water - better, in fact, fall with your back, so that the sternum does not feel the sudden change in temperature and affect the heart.
4. Swim non-stop for 5 to 10 minutes, because as the body comes in contact with cold water, it quickly loses its heat.
5. Avoid swim far from the shore, because the limbs are much more prone to cramps and numbness in the cold, which will make it difficult for us to return to shore.
6. A good, indicative length of stay in the water is 15 to 20 minutes. However, for beginners, the winter swim should last a few minutes (4 to 5).
7. As soon as we go out of the sea, we wipe well and dress in warm clothes.
An article from a member of Ierapetra winter swimming team. To participate in winter swimming excursions, send an email with your name to allyearswim@protonmail.com